The Coaches Series Softball Certificates recognize stylish awards for soccer players, coaches, and team parents. You choose the color – one of six – and the title (60 options or choose one of your own).
These editable soccer award certificate templates are just what youth softball coaches need. Use as many as you'd like, season after season, and the best part? Players and parents love them! Hand out a smile.
Each purchase comes with six different colored templates — dark blue, light blue, green, red, orange, and purple — on a PDF file that works on PCs or Macs.
So right after you place your order, you can be on your way to having completed certificates. You can create about 15 certificates easily in less than 30 minutes!
Editable Softball Certificates – Personalize Quickly
How nice for each player to have a customized message just for them? Include their name and words of praise. Kids will post these in their kitchen or bedroom and keep them up for a long time! What's not to love?
6 Colors to Choose From
The six different colors enable coaches to match up to a team color. But, some coaches may elect to use all of the colors. It's your choice!
Price: $13.99
60 Certificate Title Ideas — coaches series softball certificates
You can go from the initial purchase to finished, professionally designed certificates in minutes. Coaches come up with their own titles for the awards or rely on the list of 60 title ideas included in the PDF. The graphic below shows just 6 of the 60 title choices. There's something for everyone, but if not, come up with it on your own!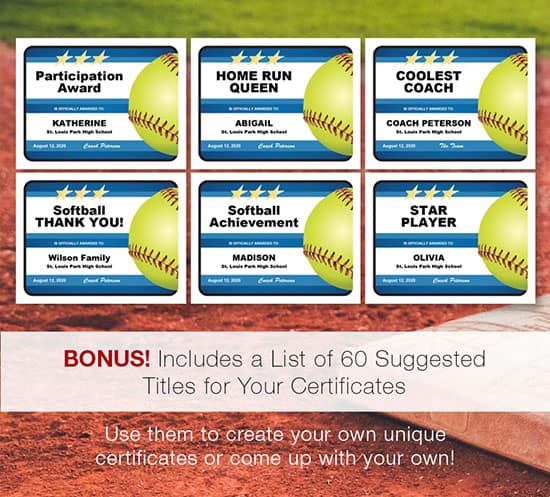 Bonus Teachers & Classroom Certificates Bundle
With purchase, you'll receive a FREE Teachers & Classroom Certificates Bundle to recognize the importance of teachers in our lives and say "thank you" for the purchase. This 15 Classroom Certificate Bundle is a $20 value! You can either give it to a teacher you admire or keep it yourself.
You might also be interested in:
What to write on softball certificates
Summary: coaches series softball certificates
These certificate templates work on standard 8 1/2″ by 11″ paper. You can add an exceptional touch by selecting higher-quality paper, but it's unnecessary.
Help players and coaches remember all the fun times of softball season with these beautiful keepsakes!
The Coaches Series Softball Certificates: $13.99 Price
Price: $13.99