The Coaches Series — Soccer Certificates are designer, editable soccer award certificate templates that enable you to choose one of six colors and your title for the award. To help you out, we provide you with a list of 60 possible award titles.
You can recognize soccer players, coaches, and team parents with these stylish soccer certificates. Each download comes with six different colored templates — green, red, dark blue, light blue, orange, and purple — on a PDF file that works on PCs or Macs.
So, immediately after placing your order, you can be on your way to having completed certificates.
Editable Soccer Certificates Personalized in Minutes
If speed is of the essence, you can complete 15 certificates in about 30 minutes which is excellent if you're in a hurry.
Using the Colored Templates
Some coaches will choose one of the colored templates to match their team color. They'll create individual awards for each player using different titles. Other coaches decide to use all of the various certificate colors to award their team members.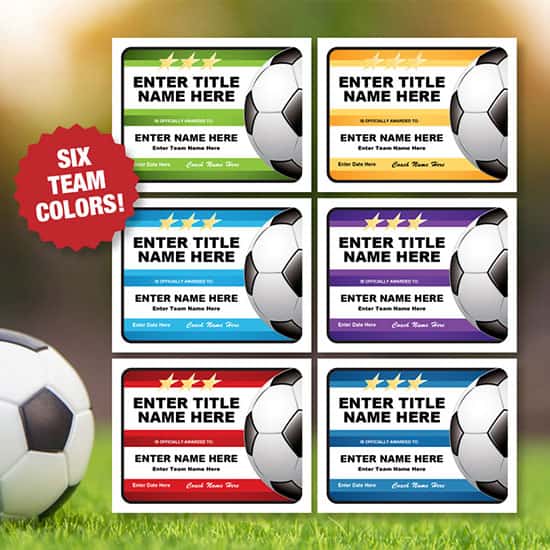 Price: $13.99
Title Ideas to Make Your Job Easier
The Coaches Series is simple and easy to go from purchase to finished, professionally designed certificates. Coaches can come up with their own titles for the awards or rely on the list of 60 title ideas included in the PDF — the visual below shows just 6 of the 60 title choices.
There's something for everyone, but if not, come up with it on your own! You will love the flexibility!
Bonus Teachers & Classroom Certificates Bundle
You will receive the six templates shown with this purchase plus a FREE Teachers & Classroom Certificates Bundle. This 15-certificate bundle (bringing your total to 21 different design templates) is a $20 value and our way of saying "Thank You" to all the great teachers and a "Thank You" to our great customers.
Mac Users
MAC USERS: Make sure you open your CertificatesPlus PDF with Adobe Reader. Open Adobe Reader first from your applications folder and then the PDF via the File > Open command from the horizontal menu on the top. If not opened in this fashion, Mac's default PDF reader is Preview, which doesn't work well with PDFs customized. One of our Etsy top sellers!
You might also be interested in:
Summary
These certificates are simple to fill in — what you see is what you get. Print as many as you like year after year. Designs work on standard 8 1/2″ by 11″ paper. Plus, up to your paper selection for an even more dramatic effect.
Hand out a smile that will be treasured for a long time!
The Coaches Series — Soccer Certificates: $13.99 Price
Price: $13.99