Fortnite names say a lot about you as a player. Make sure you pick a moniker that is a good reflection of who you are or who you want to be.
Fortnite is a third-person shooter gaming phenomenon created by Epic Games and available for various game consoles. It has spawned everything from family game nights to large-scale tournaments. Fortnite Battle Royale can host up to 100 players trying to be the sole survivor and winner.
Coming up with a cool moniker gives you some street cred and sets you apart from all the other players. Below is our collection of cool and funny Fortnite names. Review, select favorites, edit down to your best and commit.
Best Fortnite Names: Expert Panel Selections
While we encourage you to check out the entire list if you're in a hurry, here are some top picks.
1.) Crackshot
2.) Too Old For This
3.) Cloaked Shadow
4.) Third Degree Burn
5.) Battle Hound
6.) Ghost Rider
7.) Skull Trooper
8.) The Untouchable
9.) Disco Ninja
10.) LeBron's Housesitter.
Cool Fortnite Names
Having a cool, intimidating Fortnite Game Tag is a key to making your opponents think twice about taking you on in combat.
It's important to have a cool username to portray your individual Fortnite personality. Here are some fun options. See if you can find one that fits you:
Crime boss
Cartoon Savage
Tryhards
W-Key Warrior
Chilled Ninja
Sweltering Sweats
Ghostly Stryker
SCARey SNIPer
Reaperbot
Scar Maker
Soul Sniper
Dark Hipster
Little Miss Misery
Fatal Mistake
Final Carnage
Bubblbomb
Dark Destroyer
Spy N' Die
Queen of Snipe
Have GUN will KILL
Invisible Shooter
Muffin Maniac
Evil Unicorn
Acid Blood
Sweetsniper
Zombie Soldier
Walking Undead
Voodoo Vixen
You might also like Good Clan Names for Clash of Clans & COD.
Funny Fortnite Names
Fortnite is a fun game, so you may want a funny username that reflects your own humorous approach to the game. A funny game tag can do two things: it can put your opponents off guard and be a unique source of identity for your character.
If you have a funny name like Loopy Lurker, your competitor might be laughing out loud while you've quickly dispatched them from the game. Laugh that off. From our vast library of Fortnite usernames, here are some that might amuse you:
TURBO Trash
Calamity Pain
maskedmystic
Panda Assassin
Try harder
Cheat Master
Skirts Chaser
Big Meat Eater
Joke Boi
Pick Me
Brave Fart
Tfue or FLSE
Onion Breath
Village Idiot
bAd bOt
Hans Polo
Girlzguy
Donutbuster
Out2Lunch
Pissed Pistol
Baddassbutterfly
Noammophobia
Slap N' Tickle
Heat Sneaker
JustaJerk
Not Wearing Pants
Hokie Pokie Hitman
Ninja Joker
Intentionally Fowl
HAPPYtoHURT
Check out TikTok Username Ideas.
Tips for Creating A Good Team Name
Good Fortnite Names
A good, solid Fortnite username means that you're serious about the game and ready to play with heart and soul. Good Fortnite names signal your willingness to say, "I'm here to win, are you?"
With 100 players in a Battle Royale, you want a name that will break out of the clutter, a distinctive and memorable name. We've assembled a list of good Fortnite names that you can use to discover your own Fortnite identity or combine terms for a new game tag. Take a look:
Monster of Mayhem
Shadow Sniper
Original Gangster
Phobia
UnitONE
Pop Up Bot
Fortnitefobia
Steel Nerves
ToXic VenoM
Deluxe Defender
EVILexecutioner
Gorilla Gunner
Sergeant Sharp
Insane Assassin
Captain Clutch
Death Vader
Snake Charmer
Menacing Mechanic
Ghost Glider
Violent Viper
FireEye
Unholy Hit Man
Simply Infamous
DemonDIVA
Throwing Shade
EVILDoer
Vicious Villain
Deathward Dog
Nasty NOT Nice
Wicked Warlock
All 4 Pain
Venom Spewer
Fortnite Clan Names
When you are playing Fortnite with your crew, you want a clan name that strikes fear in the hearts of your opponents or gives everyone a chuckle, or is mysterious and secretive. Or just says who you guys are. But make no mistake, a good clan name must leave a strong impression on the other players.
Here is a compilation of potential names for your clan. You can choose one for your squad or use them as an inspiration to create your own:
Raging Bulls
Assassins Boys' Club
Sneaky Snipers
Edge Livers
Cut N' Run Crew
Power Seekers
Obscene Army
Ninja Nut Cases
Deadeye Dealers
Hit for Hires
Terrifying Tacticians
Grizzly Girlz
The Lucky Shots
downinthedirtninjas
The Good, The Bad, The Crazy
Sniper Sistas
Hell's Hit Men
The UNDERcovers
The Leggings Crew
Assassin Nation
Legendary Looter
fearNOevil
Sniper in Diapers
Clever
Hungry Hungry Hippos
Army of Aces
The Sharp Shooters
Knight Riders
Erector Set
Raging Rangers
Operation Annihilate
Agents of EVIL
Skin Names For Fortnite
You might buy or acquire a Fortnite Skin because they look cool, or they have controlled availability, or the skin mimics my style of character and play, or it just looks good. Whatever reason you choose, a stylish Fortnite outfit is important because its look, powers (and secret powers) could make the difference in winning a Battle Royale.
One tactic in a Battle Royale is for a battle squad to dress all in the same skin. This can be confusing to their enemies and allows them to create decoys and ambushes. You can purchase a Fortnite skin from the Cash Shop using V-Bucks.
An expensive Fortnite Skin can cost $2000 V-Bucks, a spendy in-game purchase. But you can also earn a Fortnite Skin by advancing through different tiers of the game. In addition, there are special promotions that offer unique skins for sale at a promo price for a limited time.
Types of Skins
Fortnite Skins or "Outfits" include Legendary, Epic, Rare, Uncommon, and Common. Orange Legendary Skins have very distinct styling and themes.
Purple Epic Fortnite Skins cost a little less than Legendary Skins but also have unique styles and functions. Rare Skins are Blue and cost less than Epic Skins. They can be adventurous and, like all Fortnite Skins, are available for those identifying as female or male. Uncommon Skins are Green and cost 800 V-Bucks in the Cash Store.
These skins also offer some uncommon accessories. Finally, the Common Fortnite Skins are Grey, and they are the stock skins the game automatically equips with you.
Bonus: The skins described above are for the Fortnite Battle Royale Game. The Fortnite Save, the World Game, has Gold Mythic Skins that can be purchased.
Creative Fortnite Skin Names
Battlefield Ruler
Ice Spider
Sleepy Skeleton
Crackinator
Wipe Out
Backstabber
Goth Ranger
Dark Destroyer
Screaming Skull
F.R.E.D. (Fantasy Raider Evil Doer)
Pathmaker
Stealth Scorpion
Overhauler
Inspirational
Guillotine
Rifle Man
Spark
Blue Bird
Detonator
Ominous
Metal Head
Fortnite Dance Names
Players perform victory dances when they win a Battle Royale. Favorite Fortnite dances include The Floss Dance, Electro Shuffle, Fresh Dance, Best Mates, The Robot, and more.
Almost all of these Fortnite dances are based on real-life dances, but more and more, Fortnite is developing its own proprietary dances that players can perform when they win a game.
Here are some potential names for fun dances that Fortnite players can do in the future:
Slipped Disco
Turkey Neck
Bass Grove
Slap and Dab
Fun Drop
Shake & Bake
Flip the Bird
Slide N' Glide
Free the Dog
Hip Hop Hula
Dance of the Dead
Hail an Uber
Call a Lyft
Under the Bridge
Dang that Bang
Head Hangin'
Bad Dream
Electric Hustle
Cattle Call
Twitching Bunny
Bad Ass Boogie
Jam It Up
Cross the Room
Ultimate Slide
Breakin' Wind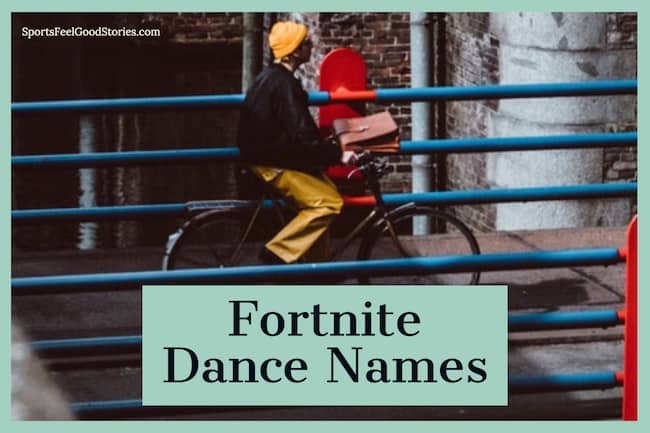 Dancing in the Dark
Grab the Ring
Flip and Dip
The Scoop
Oops, I did it Again
Brush It Off
Funky Feet
All Out Shake
Sprayer and Prayer
How to Change Your Fortnite Name
Fortnite does put a restriction on how often you can change your Fortnite username. You may only change your name once every six months.
Here's how:
1.) Go to the Epic Games website.
2.) Select the Account icon.
3.) Enter your account info.
4.) Select the My Account icon.
5.) Now, you can change your existing name to your new name.
6.) Scroll down and select "Save Changes."
7.) Exit the site.
8.) Log back into your Epic Games account and make certain your new name appears.
That should do it.
Fortnite Name Criteria
Epic Games does put some restrictions on usernames for Fortnite:
You cannot use the word Epic in your username.
The name can only contain letters, numbers, and spaces, with no punctuation.
It cannot be obscene.
It must be a minimum of 5 characters and a maximum of 32 characters.
Case – upper or lower – does not matter.
Almost all font styles are supported.
The Fortnite username and display name can be different. The username is an account identifier and indicates the direct URL used to visit your profile. You would use your username to get account status and information.
Your username appears on the screen when you are actively playing the game. As stated above, you can change your username once every six months.
Your Fortnite Display Name
Your display name is visible to other Fortnite members when you make comments or questions in the member's forum. It can be different from your username, which you use to log in to your Epic Games account.
When you first create your account, the username and the display name will be the same. A member must get permission from the site administrator to change their display name.
We hope you will enjoy playing Fortnite for many years to come, and we hope the information we've provided here will help you have a little more fun as you establish your persona on Fortnite. From the "Expert Marksman," here's saying PLAY ON!
The popularity of the Game
While the game is free to play and as many as 40 million people log on to enjoy the battle every month, just last May, players made in-game purchases that totaled $318 million…in a single month! Fortnite is a big business.
But even with all the shooting and killing, the fun in Fortnite is building and customizing. Outfitting your character with the latest "skin" and weapons, creating a unique and fitting name for your character, or performing a memorable victory dance. And, like many competitive endeavors, your player name is important.
We hope we've helped you on that front. And remember, the last one standing wins!
By Tim Moodie
Tim Moodie has spent over 30 years in the toy business as a designer, developer, and inventor. He has worked on and created toy and game names during these years, like Rap Master Microphone. Street Beats, Jam Van, Dueling Dice, Firebrand, Bad Eggz, Between the Covers, and more. He is responsible for naming Wes Champion, Anne Fisher-King, Dr. Jennings Hyde, Jean Splicer, Bob Rimkist, and more.
Etcetera
You are on our Cool Fortnite Names page.
You might like: