These Bill Russell quotes reflect the champion's mindset. A winner everywhere he went, he could be an intimidating force on the court. His legacy of winning championships with the Boston Celtics will not likely be matched.
Best Bill Russell Quotes
The idea is not to block every shot. The idea is to make your opponent believe that you might block every shot.
What distinguishes a great player is his presence. When he goes on to the court, his presence dominates the atmosphere.
Durability is part of what makes a great athlete.
Bill Russell Quotes on Life
Concentration and mental toughness are the margins of victory.
The most important thing for me is the friends that I've made.
What's more important than who's going to be the first black manager is who's going to be the first black sports editor of the New York Times.
The last five or six days, I've been running. The last two days, I've been running pretty hard. Everybody's got to be someplace.
Most people have a harder time letting themselves love than finding someone to love them.
See how many NBA rings Bill Russel has.
Bill Russell On Basketball
We couldn't sustain it. And they got a lot of kids that can shoot. We just couldn't close out well enough.
I think that David Stern is probably the greatest commissioner that any sport has ever had in the history of this country.
See Remembering Celtics Great John Havlicek.
People say it was the greatest individual rivalry they've ever seen. I agree with that. Let me assure you that if either Wilt's or Russ' coach had ever told one of them, he couldn't guard the other guy; he would have lost that player forever
After I played him for the first time, I said, 'Let's see. He's four or five inches taller. He's 40 or 50 pounds heavier. His vertical leap is at least as good as mine. He can get up and down the floor as well as I can. And he's smart. The real problem with all this is I have to show up. (Commenting on Wilt Chamberlain)
See 7 Things You May Not Know About Wilt Chamberlain's 100-point game.
Bill Russell Meme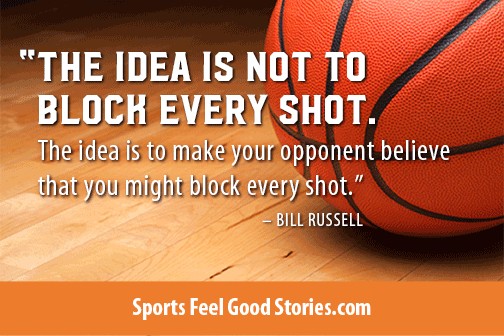 Check out 23 Best Basketball Quotes
Bill Russell Quotations on Teamwork
Commitment separates those who live their dreams from those who live their lives regretting the opportunities they have squandered.
The morale and the camaraderie that we had for one another earlier in the year are starting to come under duress because of all the losses. Some of the guys are feeling the pressure now from the last year when they were not successful.
Check out The Brad Stevens Interview.
I think what has happened to our basketball team, we've been badly distracted. They're not reading too many positive things in the paper.
By Mike O'Halloran
Mike has authored three basketball books, served as a basketball coach for 15 years, and is the editor of Sports Feel Good Stories.
Overtime
You're on the Bill Russell Quotes page.
You might like:
Inspirational Basketball Quotes
Captions for Basketball Photos