If you're looking for some clever, funny, and good basketball quotes, you've come to the right place.
Scroll through all of the quotes we have on this page, but also make sure to check out our MENU of quote pages by players' names and coaches' names at the bottom of the page. There are overall 2,500 basketball quotes in all on our site.
A well-chosen basketball quote can unite a fan base, excite your team players, and provide the spark you need. Please read on.
Best Basketball Quotes
These quotes serve as great motivation to athletes and coaches of all ages. If you have any additions you'd like to share, please submit them through our "Contact Us" page.
1.) There are really only two plays: Romeo and Juliet and put the darn ball in the basket.
Abe Lemmons
2.) Winning is like deodorant – it comes up, and a lot of things don't stink.
Doc Rivers
3.) I haven't been able to slam-dunk the basketball for the past five years. Or, for the thirty-eight years before that, either.
Dave Barry
4.) Winning is overrated. The only time it is really important is in surgery and war.
Al McGuire
5.) I hate it. It looks like a stickup at 7-Eleven. Five guys standing there with their hands in the air.
Norm Sloan, commenting on zone defense.
6.) We're shooting 100 percent – 60 percent from the field and 40 percent from the free-throw line.
Norm Stewart
7.) The biggest thing is just routine. I think that's the biggest correlation between golfers and basketball players.
Steph Curry — See Steph Curry Fantasy Basketball Team Names.
Funny Basketball Quotes
8.) When I dunk, I put something on it. I want the ball to hit the floor before I do.
Darryl Dawkins
9.) The secret is to have eight great players and four others who will cheer like crazy.
Jerry Tarkanian
10.) When I went to a Catholic high school in Philadelphia, we just had one coach for football and basketball. He took all of us who turned out and had us run through a forest. The ones who ran into the trees were on the football team.
George Raveling
11.) Fans never fall asleep at our games because they're afraid they might get hit by a pass.
George Raveling
12.) I know the Virginia players are smart because you need 1,500 SAT scores to get in. I have to drop breadcrumbs to get our players to and from class.
George Raveling
13.) Any American boy can be a basketball star if he grows up, up, up.
Bill Vaughn
14.) This year, we plan to run and shoot. Next season we hope to run and score.
Billy Tubbs
15.) I liked the choreography, but I didn't care for the costumes.
Tommy Tune, on why he doesn't play basketball
See 5 Best NBA Halftime Shows.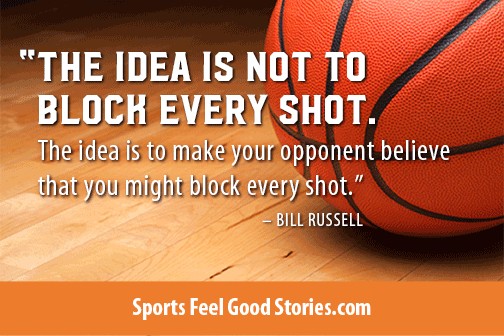 Basketball Quotes on the Game
16.) It is not how big you are, it's how big you play.
17.) Habits are first cobwebs, then cables.
18.) When you're through improving, you're through.
19.) Life is not about waiting for the storms to pass; it's about learning how to dance in the rain.
20.) The more you sweat in practice, the less you bleed in battle.
Also, check out our basketball slogans and sayings.
21.) Pain is nothing compared to what it feels like to quit.
22.) The man who wants to lead the orchestra must turn his back on the crowd.
23.) Losers quit when they're tired. Winners quit when they've won.
24.) My responsibility is getting all my players playing for the name on the front of the jersey, not the one on the back.
25.) If you think small things don't matter, think of the last game you lost by one point.
26.) Basketball doesn't build character it reveals it.
27.) Don't be afraid to ask dumb questions. They're easier to take than dumb mistakes.
Check out our 737+ Team Names page.
Inspiring Basketball Quotes
28.) I try to do the right thing at the right time. They may just be little things, but usually, they make the difference between winning and losing.
Kareem Abdul-Jabbar – You might also like Hook Shot Definition and Types
29.) One man can be a crucial ingredient on a team, but one man cannot make a team.
Kareem Abdul-Jabbar
30.) You have to be able to center yourself to let all of your emotions go. Don't ever forget that you play with your soul as well as your body.
Kareem Abdul-Jabbar
31.) We try to stress the little things because little things lead to big things.
Steve Alford
32.) Basketball is like a war in that offensive weapons are developed first, and it always takes a while for the defense to catch up.
Red Auerbach
33.) The best way to forget one's self is to look at the world with attention and love.
Red Auerbach
34.) Just do what you do best.
Red Auerbach
35.) Great players are willing to give up their own personal achievements for the achievement of the group. It enhances everybody.
Kareem Abdul-Jabaar
31.) The reason we win games is not typical of a top-five team. We're winning on execution and heart and guts and playing smart.
Mark Few
36.) Do you know how I learned to shoot? I watched white people. Just regular white people. They really put their elbow in and finish up top. You can find videos of them online.
Joel Embiid
Check out 37 Best Inspirational Sports Quotes of All-Time.
Famous Hoops Quotations
37.) Natural abilities are like natural plants; they need pruning by study.
Red Auerbach
38.) Some say you have to use your five best players, but I found out you win with the five that fit together best as a team.
Red Auerbach
39.) I don't hire good coaches, I hire good people. If they turn out to be good coaches, too, that's a plus.
Geno Auriemma
40.) I know that I'm never as good or bad as any single performance. I've never believed my critics or my worshippers, and I've always been able to leave the game in the arena.
Charles Barkley
41.) The only difference between a good shot and a bad shot is if it goes in or not.
Charles Barkley
42.) If you are afraid of failure, you don't deserve to be successful!
Charles Barkley
Motivational Quotations on Hoops
43.) Coaching is easy. Winning is the hard part.
Elgin Baylor
44.) What you specifically teach is what your players will do best.
Dick Bennett
45.) Practice to beat the best.
Dick Bennett
46.) When I was young, I never wanted to leave the court until I got things exactly correct. My dream was to become a pro.
Larry Bird
47.) You never make any of the shots you never take. 87% of the ones you do take, you'll miss too. I make 110% of my shots.
Larry Bird
48.) Push yourself again and again. Don't give an inch until the final buzzer sounds.
Larry Bird
49.) A winner is someone who recognizes his God-given talents, works his tail off to develop them into skills, and uses these skills to accomplish his goals.
Larry Bird
50.) Criticize on defense and encourage on offense.
John Brady
51.) If you want team play, you must stress defense. Defense makes players unselfish.
John Brady
52.) All the successful teams I've ever seen have three characteristics: They play unselfish, they play together, and they play hard.
Larry Brown
It's a Mental Game
53.) The trouble with officials is they just don't care who wins.
Tommy Canterbury
54.) A guy who gives you less than what he has to give is, one, telling you what he thinks of you, and two, telling you what he thinks of himself.
Pete Carill
55.) The two ingredients in success in basketball are playing hard and playing intelligently.
Pete Carill
56.) Everybody pulls for David; nobody roots for Goliath.
Wilt Chamberlain
57.) Do your best when no one is looking. If you do that, then you can be successful in anything that you put your mind to.
Bob Cousy
58.) I don't try to get players emotionally up for a game; it creates too many peaks and valleys… I strive for an even keel; they will get up for the big games.
Denny Crum
59.) Success doesn't stop when you get there.
Michael Jordan
60.) The difference between winning and losing is, most often… not quitting.
Walt Disney
Challenging to Excel
61.) Systems win! Believe in your system, and then sell it to your players.
Billy Donovan
62.) We have a great bunch of outside shooters. Unfortunately, all our games are played indoors.
Weldon Drew
63.) Good, better, best. Never let it rest. Until your good is better and your better is best.
Tim Duncan
64.) To be a great teacher of the game, you must study the game, know your craft & be proud of your knowledge, but never be satisfied with your knowledge.
Kevin Eastman
65.) To be great, we need to win games we aren't supposed to win.
Julius Erving
66.) I keep both eyes on my man. The basket hasn't moved on me yet.
Julius Erving
67.) If you don't do what's best for your body, you're the one who comes up on the short end.
Julius Erving
68.) Sometimes, this thing becomes bigger than life itself. It isn't.
Mark Few
69.) If you are going to take it to the bank, then you better cash it in.
Shannon Fish
70.) Basketball is like photography; if you don't focus, all you have is the negative.
Dan Frisby
71.) We win because we play together as a team.
John Havlicek
72.) I keep both eyes on my man. The basket hasn't moved on me yet.
Julius Erving
73.) Not only is there more to life than basketball, but there's also a lot more to basketball than basketball.
Phil Jackson
Check out Basketball Lingo
Hoops Sayings
74.) Good teams become great ones when the members trust each other enough to surrender the Me for the We.
Phil Jackson
75.) You can't be afraid to fail. It's the only way you succeed…you're not gonna succeed all the time, and I know that.
LeBron James
76.) I like criticism. It makes you strong.
LeBron James
77.) Sometimes, adrenaline flows into momentum.
Dennis Johnson
78.) Ask not what your teammates can do for you. Ask what you can do for your teammates.
Magic Johnson
Bob Knight Basketball Quotes
79.) The key is not the "will to win" – everybody has that. It is the will to prepare to win that is important.
80.) My practices were not set up to be easy or enjoyed.
81.) The goal is to make practice more difficult, physically/mentally, than anything your players will face during a game.
82.) Basketball is a full-court game, so every drill must be done full-court.
83.) Passing is your best weapon against man-to-man. Dribble penetration is your best weapon against a zone.
84.) You don't play against opponents. You play against the game of basketball.
Bob Knight
Good Basketball Sayings
85.) Prepare for every game like you just lost your last game.
Lon Kruger
86.) Believe that the loose ball that you are chasing has your name written on it.
Mike Krzyzewski
87.) One day of practice is like one day of clean living. It doesn't do you any good.
Abe Lemmons (one of the funniest sources)
88.) You always have to give 100% because if you don't, someone somewhere will give 100%, and they will beat you when you meet.
Ed Macauley
89.) I never thought I'd lead the NBA in rebounding, but I got a lot of help from my teammates – they did a lot of missing.
Moses Malone
Player Quotes
90.) Basketball is the MTV of sports.
Sara Levinson
91.) They don't pay you a million dollars for two-hand chest passes.
Pete Maravich
92.) There is nothing wrong with dedication and goals, but if you focus on yourself, all the lights fade away, and you become a fleeting moment in life.
Pete Maravich
93.) There is nothing wrong with dedication and goals, but if you focus on yourself, all the lights fade away, and you become a fleeting moment in life.
Pete Maravich
94.) When I was losing, they called me nuts. When I was winning, they called me eccentric.
Al McGuire
95.) Help one kid at a time. He'll maybe go back and help a few more.
Al McGuire
90.) I don't discuss basketball. I dictate basketball. I'm not interested in philosophy classes.
Al McGuire
96.) To win, you've got to put the ball in the macramé.
Terry McGuire
Tip: Use these basketball quotes for team communications, photo captions on Instagram, in season-ending programs, and more.
Don Meyer on Basketball
97.) Shout praise and whisper criticism.
98.) In practice, don't just run basketball drills; teach the players how to play basketball.
99.) Successful programs consist of people working hard, and working together, while never worrying about who gets the credit.
100.) There is nothing more important than rebounding…don't just give it lip service.
101.) It is not what you teach but what you emphasize.
102.) Good shooters take the shots; best shooters take most of the shots.
103.) You build your program from the ideas of great coaches.
104.) Playoff your great player… great teams have a go-to player, and they play off of him.
105.) Prepare for every practice like you just lost your last game.
106.) Your program must have an overriding purpose that is clearly visible and that teaches lessons beyond winning.
107.) When you watch the game, be a student of the game.
Short Basketball Quotes – Don Meyer
108.) The team is an extension of the coach.
109.) When the legs go, the heart and the head follow quickly behind.
110.) Every day you teach attitude.
111.) It is foolish to expect a young man to follow your advice and ignore your example.
112.) To be a team, you must be a family.
113.) Discipline and demand without being demeaning.
114.) Recognize and reward players who put the team first, not just the gifted ones.
115.) Simplify the game as much as possible. When you add, you must subtract.
Basketball Quotes for Girls
116.) Be strong in body, clean in mind, lofty in ideals.
James Naismith
117.) I learned at a young age to dribble with both hands, and that allows me to be more creative when I go against bigger and stronger opponents.
Steve Nash
118.) Play the game with a smile.
Earl "The Pearl" Monroe
119.) I'm tired of hearing about money, money, money, money, money. I just want to play the game, drink Pepsi, wear Reebok.
Shaquille O'Neal
120.) Sometimes a player's greatest challenge is coming to grips with his role on the team.
Scottie Pippen
121.) Teams that play together beat those with superior players who play more as individuals.
Jack Ramsay
Pat Riley Quotes on Basketball
122.) There are only two options regarding commitment; you're either in or you're out. There's no such thing as life in between.
123.) It's what you get from games you lose that is extremely important.
124.) Being a part of success is more important than being personally indispensable.
125.) In all the research you do as a coach, studying other coaches and championship-type situations, you find that all those teams combined talent with great defense. You've got to stop other teams to win.
Awesome Basketball Quotes
126.) You've got to learn the footwork, the positioning, how to box out, how to pass, how to shoot your free throws. All these things are necessary, not to be the No. 1 player in the world, but maybe you can play against him.
Oscar Robertson
127.) Basketball is basketball.
Oscar Robertson
128.) The idea is not to block every shot. The idea is to make your opponent believe that you might block every shot.
Bill Russell
129.) If you make every game a life-and-death proposition, you're going to have problems. For one thing, you'll be dead a lot.
Dean Smith
130.) What to do with a mistake – recognize it, admit it, learn from it, forget it.
Dean Smith
131.) Basketball is a beautiful game when the five players on the court play with one heartbeat.
Dean Smith
These inspirational quotes can be used for girls' or boys' teams, on posters and banners, and in locker rooms.
Confidence in Basketball Quotations
132.) My father gave me the greatest gift anyone could give another person, he believed in me.
Jim Valvano
133.) Other people go to the office. I get to coach. I know I've been blessed.
Jim Valvano
134.) You can't get much done in life if you only work on the days when you feel good.
Jerry West
135.) Confidence is a lot of this game or any game. If you don't think you can, you won't.
Jerry West (Jerry West's image was used for the NBA logo.)
136.) When it's played the way is supposed to be played, basketball happens in the air, flying, floating, elevated above the floor, levitating the way oppressed peoples of this earth imagine themselves in their dreams.
John Edgar Wideman
137.) You can run a lot of plays when your X is twice as big as the other guys' O. It makes your X's and O's pretty good.
Paul Westphal
138.) The key to any game is to use your strengths and hide your weaknesses.
Paul Westphal
John Wooden Quotes
139.) Do not let what you cannot do interfere with what you can do.
140.) Although I wanted my players to work to win, I tried to convince them they had always won when they had done their best.
141.) It's what you learn after you know it all that counts.
142.) It's the little details that are vital. Little things make big things happen.
142.) Young men need more models, not critics.
143.) What you are as a person is far more important than what you are as a basketball player.
144.) Champions never complain; they are too busy getting better.
145.) A strong leader accepts blame and gives the credit. A weak leader gives blame and accepts the credit.
146.) Confidence comes from being prepared.
147.) It is amazing how much can be accomplished if no one cares who gets the credit.
Love of the Game Quotes
148.) When I walked into the gym, I fell in love with the game. I didn't fall in love with it just because it was me playing. I fell in love with it because I've got guys like this – like these guys every single day that push me to be the best that I can be.
Kevin Durant
149.) Champions play as they practice. Create a consistency of excellence in all your habits.
Mike Krzyzewski
150.) Great players are willing to give up their own personal achievements for the achievement of the group. It enhances everybody.
Kareem Abdul-Jabbar
151.) My goal is to win the next game one possession at a time. That's it. I don't have any other goals.
Brad Stevens
152.) The strength of the team is each individual member. The strength of each member is the team.
Phil Jackson
153.) Create unselfishness as the most important team attribute.
Bill Russell
154.) Good players want to be coached; Great players want to be told the truth.
Doc Rivers
155.) The invention of basketball was not an accident. It was developed to meet a need. Those boys simply would not play 'Drop the handkerchief.'
James Naismith
Notable Basketball Insights
156.) You can have fun playing by yourself or one-on-one with another person. Basketball is for everyone.
Red Auerbach
157.) A referee has to encourage action on the court, not cripple it with technicalities.
Earl Strom
158.) Remember that basketball is a game of habits. If you make the other guy deviate from his habits, you've got him.
Bill Russell
159.) I'm still waiting for perfection. In the meantime, I'll settle for persistence.
Bo Ryan
160.) I don't know if I practiced more than anybody, but I sure practiced enough. I still wonder if somebody – somewhere – was practicing more than me.
Larry Bird
161.) He who controlleth the backboard, controlleth the game.
Adolph Rupp
162.) Winning is more related to good defense than good offense.
Dr. Jack Ramsay
163.) A quick way for any player to make himself better is to think about what he himself doesn't like to play against.
Bob Knight
164.) Hard work beats talent when talent fails to work hard.
Unknown
165.) You can't get much done in life if you only work on the days when you feel good.
Jerry West
166.) Talent wins games, but teamwork and intelligence win championships.
Michael Jordan
Great Basketball Sayings
167.) Me shooting 40% at the foul line is just God's way to say nobody's perfect.
Shaquille O'Neal
168.) As a professional athlete, a lot is going to be said about you – but I just try to move forward and try to achieve my goals.
LeBron James
169.) I have had some bad shooting games, but that doesn't stop me from getting the ball to my teammates.
Jason Kidd
170.) A lot of late nights in the gym, a lot of early mornings, especially when your friends are going out, you're going to the gym, those are the sacrifices that you have to make if you want to be an NBA basketball player.
Jason Kidd
171.) Failure is acceptable. but not trying is a whole different ballpark.
Michael Jordan
172.) The best teams play for each other, not with each other.
Jeff Van Gundy
Hoops Insights
173.) Other people go to the office. I get to coach. I know I've been blessed.
Jimmy Valvano
174.) Leadership is diving for a loose ball. It's about being able to take it as well as dish it out. That's the only way you're going to get respect from other players.
Larry Bird
175.) The best teams have chemistry. They communicate with each other, and they sacrifice personal glory for the common goal.
Dave DeBusschere
176.) Practice habits were crucial to my development in basketball. I didn't play against the toughest competition in high school, but one reason I was able to do well in college was that I mastered the fundamentals. You've got to have them down before you can even think about playing.
Larry Bird
177.) The most important measure of how good a game I played was how much better I'd made my teammates play.
Bill Russell
178.) Talent is God-given. Be humble. Fame is man-given. Be grateful. Conceit is self-given. Be careful.
John Wooden
Understanding the Game
179.) I'm not against taking shots, but I am against taking bad shots.
Hank Iba
180.) They say that nobody is perfect. Then they tell you practice makes perfect. I wish they'd make up their minds.
Wilt Chamberlain
181.) You can say something to popes, presidents, and kings, but you can't talk to officials. In the next war, they ought to give everyone a whistle.
Abe Lemmons
182.) Basketball is like photography. If you don't focus, you'll only get the negative.
Dan Frisby
183.) If you make every game a life-and-death proposition, you're going to have problems. For one thing, you'll be dead a lot.
Dean Smith
184.) If you can walk with your head in the clouds and keep your feet on the ground, you can make it in the NBA.
Gary Dornhoefer
185.) Kids are great. That's one of the best things about our business, all the kids you get to meet. It's a shame they have to grow up to be regular people and come to the games and call you names.
Charles Barkley
B-ball Wisdom
186.) They shot the ball well early. What comes out of the microwave hot doesn't always stay hot. I know because I eat bagels in the morning.
Shaquille O'Neal
187.) The best thing about freshmen is they become sophomores.
Al McGuire
188.) Scoring 100 points is a lot, but I maybe could have scored 140 if they had played straight-up basketball.
Wilt Chamberlain
189.) They don't care how much you know unless they know how much you care.
Pat Summitt
190.) Everyone talks about age, but it's not about age. It's about work ethic. Winning never gets old.
Lisa Leslie
191.) Here's how I'm going to beat you. I'm going to outwork you. That's it. That's all there is to it.
Pat Summitt
192.) I learn more from the WNBA. They know how to dribble, how to pivot, and how to use the shot fake.
Draymond Green
Coach's Corner
193.) It's about doing it in a way that it can't be done any better. That is the goal every day.
Geno Auriemma
194.) Talent is God-given. Be humble. Fame is man-given. Be grateful. Conceit is self-given. Be careful.
John Wooden
195.) Freshmen want to play. Sophomores want to start. Juniors want to score. Seniors want to win.
John Beilein
196.) Evaluate wins and losses objectively, focusing more on effort and execution than on the outcome of the game.
Morgan Wootten
197.) Help one kid at a time. He'll maybe go back and help a few more.
Al McGuire
198.) Bottom line, you're either a risk-taker or you're not, and if you don't take risks, you'll never win big.
Geno Auriemma
199.) Shout praise and whisper criticism.
Don Meyer
200.) When you work on getting better at something, don't do it half speed.
Ray Allen
201.) Teams that play together beat those with superior players who play more as individuals.
Jack Ramsay
Character Quotes
202.) Character is huge for me. Does he care about winning, or does he care about playing?
Otis Smith
203.) Don't act like you're too good to use other ideas.
Hubie Brown
204.) Whether it's college or the NBA, it's basketball, and the more you play, the less you need to adjust.
Diana Taurasi
205.) You don't have to be Magic to be special. You're already special; you're you.
Magic Johnson
If you have any suggestions, please let us know via the Contact page. Thanks!
By Mike O'Halloran
Mike is a basketball coach and the author of three basketball books: Never Forget They're Kids, Layups and Life Lessons, and Youth Basketball Practice Plans. He's the founder and editor of Sports Feel Good Stories.
Overtime
You are on our Basketball Quotes page.
MENU OF BASKETBALL QUOTES
Captions for Basketball Photos