Inspirational basketball quotes remind us of the game we love. In this collection, great players and coaches provide keen insights into what makes basketball such a fun sport to play, watch, and be involved in.
A quick review of the basketball sayings and images below will provide you a look into the personalities and driving forces of the basketball stars quoted. From Michael Jordan to Zion Williamson, and from John Wooden to Brad Stevens, we'll keep you informed and entertained.
So, "when the ball is tipped," you'll be ready.
 Best Inspirational Basketball Quotes
I'm like tax. You're going to pay one way or the other.
Shaquille O'Neal
Standing 7'1″ tall and weighing over 300 pounds, Shaq was a force of nature and one of the most dominating centers to ever play the game.
"The important thing is that your teammates have to know you're pulling for them and you really want them to be successful."
Kobe Bryant
The Black Mamba was legendary for his preparation, clutch shooting, and generosity off of the court. Check out more Kobe quotes.
Let's Dance.
Zion Williamson
When Zion finished his college career at Duke and was signed by the New Orleans Pelicans, his reply, "Let's Dance," became the stuff of legend. He also trademarked the phrase. Check out more on Zion Williamson.
I always laugh when people ask me about rebounding techniques. I've got a technique. It's called just go get the damn ball.
Charles Barkley
The Round Mound of Rebound, also known as Sir Charles, is now known for his great commentary on NBA and college games. See more Sir Charles quotes.
Good Inspirational Basketball Quotes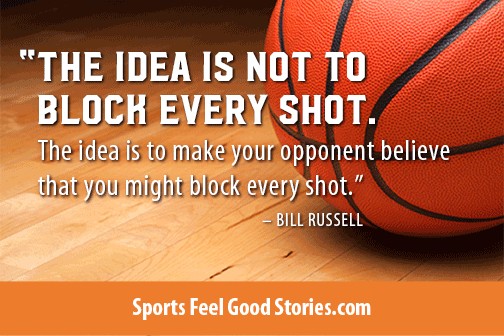 The idea is not to block every shot. The idea is to make your opponent believe that you might block every shot.
Bill Russell
The center during the glory years of the Celtics Dynasty, Russell helped Boston win 11 NBA Championships in his 13 years.
Sometimes the coaches tell me to be selfish, but my game won't let me be selfish.
LeBron James
Straight from high school to the NBA, King James is widely regarded as one of the best players to ever play the game. See more Lebron quotes.
Ask not what your teammates can do for you. Ask what you can do for your teammates.
Magic Johnson
Revolutionizing the point guard at 6'9″, Earvin "Magic" Johnson directed "Showtime" for the LA Lakers. Read more Earvin Johnson quotes.
What do you do with a mistake: recognize it, admit it, learn from it, forget it.
Dean Smith
A coaching legend, this North Carolina coach of 36 years, was also the author of the four-corners offense.
Motivational Basketball Quotes
You have a choice to make when you're not playing. Either you're invested and a great teammate, or your not.
Brad Stevens
After taking Butler to the NCAA Championship game, the Celtics quickly added him to the NBA ranks. Calm, cool, and collected, Stevens can coach. Read the Brad Stevens Interview.
The secret is to have eight great players and four others who will cheer like crazy.
Jerry Tarkanian
Tark led UNLV to four Final Fours and a national championship while dazzling spectators with their style of play.
Check out Basketball Quotes for Girls.

11.) When an opportunity comes, it's too late to prepare.
John Wooden
The Wizard of Westwood is widely considered to be the best college basketball coach ever. He won 10 NCAA national championships at UCLA. Read more John Wooden quotes.
12.) Sometimes you learn more from losing than winning. Losing forces you to reexamine.
Pat Summitt
Pat had 1,098 career wins, the most in college basketball history. She coached at the University of Tennessee.
13.) I tell kids to pursue their basketball dreams, but I tell them not to let that be their only dream.
Kareem Abdul-Jabbar
A 19-time NBA All-Star, the sky hook master played for the Bucks and the Lakers. Oh, and he and his team won 71 consecutive games in high school.
14.) Defense is one man guarding the ball and four others helping him.
Mike Krzyzewski
Coach K has won five NCAA Championships and coached three Olympic basketball teams.
Famous Basketball Sayings & Inspirational Basketball Quotes
15.) I've missed more than 9000 shots in my career. I've lost almost 300 games. 26 times, I've been trusted to take the game-winning shot and missed. I've failed over and over and over again in my life. And that is why I succeed.
Michael Jordan
Widely considered to be the best player to ever lace-up shoes, Air Jordan electrified audiences with his basketball skills. Read more Michael Jordan quotes.
16.) Push yourself again and again. Don't give an inch until the final buzzer sounds.
Larry Bird
The Hick from French Lick led the Boston Celtics to three NBA Championships. Noted for his dead-eye, clutch shooting and even deadlier smack-talk game. Read more Larry Bird quotes.
17.) Shout praise and whisper criticism.
Don Meyer
Second only to Coach K in college basketball career wins in men's games, Don Meyer also had a way with words. He won the ESPY Jimmy V Award for Perseverance in 2009.
18.) Love is the force that ignites the spirit and binds teams together.
Phil Jackson
A good player and an exceptional coach, his teams won 11 NBA Championships — six with the Bulls and five with the Lakers. See Phil Jackson's coaching record.

Funny Basketball Quotes
19.) We're shooting 100 percent – 60 percent from the field and 40 percent from the free-throw line.
Norm Stewart
20.) Winning is like deodorant – it comes up and a lot of things don't stink.
Doc Rivers
21.) Fans never fall asleep at our games, because they're afraid they might get hit by a pass.
George Raveling
22.) This year we plan to run and shoot. Next season we hope to run and score.
Billy Tubbs
23.) I hate it. It looks like a stickup at 7-Eleven. Five guys standing there with their hands in the air.
Norm Sloan, commenting on zone defense
Putting Inspirational Basketball Quotes To Use
Inspirational basketball quotes can provide that extra boost when the team needs it. Let's face it, basketball is one of the ultimate team games. Sure, individual talent can take over at times, but when the game is played correctly, the five moving pieces play as one.
For any group endeavor, a team performs more effectively when each player is on the same page. The motivational basketball quotes below reflect that. And, importantly, a review of one of these quotes at the right time might even lead a group of players to play as one.
Here are some other ways to use these quotations.
A.) Pick a favorite basketball quote from above and place it below your email sign-off. By doing this, whenever a player or team parent reads an email from you, they know what you value.
B.) If you're a coach, reinforce these concepts with players at practices, before games, and post games. Attributing the quotes correctly to an NBA star like Michael Jordan, Zion Williamson, or Larry Bird adds credibility.
C.) Some of these fun basketball quotes make great locker room signs or posters for games.
D.) Include the quotations in basketball programs and year-end award communications.
— Mike O'Halloran
Mike has authored 3 books on basketball coaching and is the founder of Sports Feel Good Stories.
Overtime Inspirational Basketball Quotes
You're on the 23 Inspirational Basketball Quotes page.
You might like: