Soccer captions are the perfect way to add interest to all your social media posts on sites like Instagram, Facebook, and Twitter.
Make a bold statement with your photos of soccer players, coaches and fans by simply adding a caption. These sayings and hashtags will add the finishing touch to your attention-getting post.
Best soccer captions
1.) Champions are made, not born.
2.) Soccer doesn't build character. It reveals it.
3.) If it's meant to be, it's up to me.
4.) Losers quit when they're tired. Winners quit when they've won.
5.) Out hustle, out work, out-think, outplay.
6.) Born to play soccer.
7.) Fortune favors the bold.
8.) Life's a soccer ball. Can you kick it?
9.) Never let good enough be enough!
10.) Sweat makes the green grass grow.
11.) Everyone should have a goal to conquer. I believe I'll conquer yours.
12.) Soccer is not a game. It's an attitude.
13.) Play like a champion today.
14.) You had a chance until I stepped onto the field.
15.) The game is not over until it's over.
Check out 73 Funny Ted Lasso Quotes.
Funny soccer captions
16.) Beckham who?
17.) Keep calm and soccer on.
18.) What soccer players need: a good kick in the grass!
19.) Intensity is not a perfume!
20.) We make dirt look good.
21.) Pass unto others as you would have them pass unto you.
22.) Your mom called – you left your game at home.
23.) It takes balls to play soccer.
24.) Kicking and running while looking stunning.
25.) It's good to have goals.
You might like Best Lionel Messi Quotes.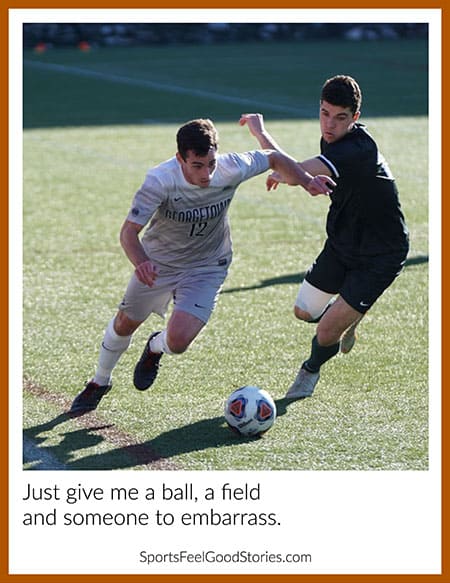 Short soccer captions
26.) Bustin' ours to kick yours.
27.) Let your feet do the talking.
28.) All about the kicks.
29.) They shoot, they score.
30.) Best in the field.
31.) Refuse to lose.
32.) Your pain is our gain.
33.) Soccer is my passion.
34.) Heading to the top.
35.) Don't worry, play soccer.
36.) We kick it where it counts.
37.) Get your kicks.
38.) A goal in one.
39.) No pain, no gain.
40.) Respect all, fear none.
41.) Shooting for the stars.
42.) Play it once. Love it forever.
Check out Cristiano Ronaldo FAQs and Quotes.
Futbol Caption Meme
Soccer sayings
43.) Play with your heart.
44.) Let's kick some balls!
45.) Hustle and heart set us apart.
46.) Just play soccer.
47.) No one can catch us.
48.) Go after your goals.
49.) For the love of the game.
50.) We do it for the kicks.
51.) Eat, sleep, play soccer.
52.) Alive and kickin'.
53.) Every play every day.
54.) We will make history.
55.) Play with pride.
56.) A kick in the grass.
57.) Play smart, play together.
See Best Premier League Cheers.
Soccer puns for posts
58.) Our goal is stopping yours.
59.) The past is history. The future is a victory.
60.) One bad game does not define who you are as a player.
61.) Girls just wanna play soccer.
62.) Play like it's the first and last game.
63.) 'Can't' should never be in an athlete's vocabulary.
64.) Life is like a game of soccer. You need goals.
See Best World Cup Performances of All-Time.
65.) Play hard, get dirty, have fun.
66.) If winning isn't everything, why do they keep score?
67.) Inside our hearts, the passion of a champion.
68.) Don't go through life without goals.
69.) The true champion believes in the impossible.
70.) There is no glory in practice, but without practice, there is no glory.
71.) Play with our hearts, not only with our feet.
72.) Futbol: The Beautiful Game.
73.) Strikers get the glory. Goalies save the day.
74.) Soccer is not something that you can fake. It's a feeling, passion, and lifestyle.
75.) Proud to be a soccer player.
76.) If your jersey is clean, you didn't play hard enough.
77.) My warm-up is your workout.
78.) The time has come to fight.
79.) Soccer isn't just a game anymore. It's a lifestyle.
80.) Never let the fear of striking keep you out from playing the game.
See Best Soccer Movies and TV Shows.
Soccer Caption Image
Soccer team captions
81.) One team, one goal.
82.) Not just a team, we are a country.
83.) A team above all. Above all, a team.
84.) Always united.
85.) The dream of one team, the heartbeat of millions.
86.) One team, one dream.
87.) Only together can we win.
88.) Here travels a nation, not just a team.
89.) Talent wins the game, but teamwork and intelligence win the championship.
90.) Teamwork makes the dream work.
91.) United by the team.
92.) One for all and all for soccer.
93.) With fire in our hearts, all as one.
94.) One nation, one team, one dream.
95.) Win or lose; we love this team.
See Heartwarming Ted Lasso Moments.
Soccer Instagram captions
96.) I am beautiful in the streets and a beast in my cleats.
97.) Driven by passion.
98.) Brace yourselves.
99.) GOOOOOOOOOOOOOOOAL!
100.) Yes, girls play soccer, and yes, I am one of them.
101.) Champions train, loser complains.
102.) Get your kicks.
103.) Stressed, blessed, soccer-obsessed.
104.) Soccer, it's in my blood.
105.) Life is simple: Eat, sleep, play soccer, repeat.
106.) Everyone sits down. I will run this show.
107.) A bad place to be is between me and the ball.
108.) Living and breathing soccer since 2002.
109.) Rise and shine with soccer.
110.) I learned all about life with a ball at my feet.
111.) The only thing more important than life and death is soccer.
112.) My love for soccer is impossible to explain.
113.) The ball is round; The game is long.
114.) Just give me a ball, a field, and someone to embarrass.
115.) You can't scare me. I'm a soccer player.
116.) My only goal is to stop yours.
117.) We know how to score.
118.) If you ask why I play soccer, I ask why do you breathe.
119.) Fast and furious.
Motivational soccer captions
120.) Fight 'till the end.
121.) Keep working even when no one is watching.
122.) It's not how big you are. It's how big you play.
123.) Expect the impossible.
124.) Practice as you have never won. Perform as you have never lost.
125.) Talk with your feet, play with your heart.
126.) We play the field until we score.
127.) If you don't have guts, don't play the game.
128.) There's no traffic on the extra mile.
129.) Let your feet do the talking.
130.) We break bones, not hearts.
131.) One commitment, one passion.
132.) Soccer: Live it and love it.
133.) If you're not playing with all your heart, someone else is, and when you meet her, she'll win.
134.) Leave your fear off the field.
135.) A day without soccer is a day wasted.
136.) It's not whether you knocked down, It's whether you get up.
137.) Play for the name on the front of your jersey.
138.) Our blood, our sweat, your tears!
139.) Trample the weak, hurdle the dead.
140.) Winning is not everything. It's the only thing.
141.) Play till the clock says 0:00.
142.) Winning is not everything, but wanting to win is.
End of soccer season captions
143.) Some dream about goals – we make them.
144.) It never gets easier. You just get better.
145.) Good players inspire themselves; great players inspire others.
146.) A true champion believes in the impossible.
147.) All out, all game, all season.
148.) You have got to shoot. Otherwise, you can't score.
149.) It's what you do before the season starts that makes you a champion.
150.) Success is no accident.
151.) Soccer is a game of mistakes. Whoever makes the fewest mistakes wins.
152.) It doesn't matter who scores the points. It's who gets the ball to the scorer.
153.) All things are difficult before they are easy.
154.) Bare your heart and soul on the field.
155.) If it doesn't challenge you, It doesn't change you.
156.) Talents set the floor. Character sets the ceiling.
157.) To win the game, You must first not lose it.
158.) Everything is simple with soccer.
159.) We never lose. We either win or learn.
160.) Set your soccer goals high, and don't stop till you get there.
Check out our fan guides menu.
Soccer Quotes
160.) I learned all about life with a ball at my feet.
Ronaldinho
161.) Soccer is a magical game.
David Beckham
162.) Life is a soccer field, don't you think?
Shakira
163.) Everything happens for a reason if you work hard for it.
Julie Ertz
164.) The rules of soccer are very simple; basically, it is this: If it moves, kick it.
Phil Woosnam
165.) I think sometimes the best training is to rest.
Cristiano Ronaldo
166.) I like to watch soccer, no matter what teams or players are on the field.
Andres Iniesta
167.) You can't score a goal if you don't take a shot.
Johan Cruyff
168.) Soccer matches should be something special, something people eagerly look forward to, something that brightens life.
P. J. O'Rourke
169.) Whatever brings you down will eventually make you stronger.
Alex Morgan
170.) There's no better feeling than stepping out on the field and stunning them all by doing what none of them thought you could do.
Ashlyn Harris
171.) You may get skinned knees and elbows, but it's worth it if you score a spectacular goal.
Mia Hamm
Soccer Hashtags
172.) #soccer
173.) #futbol
174.) #fifa
175.) #championsleague
176.) #messi
177.) #goal
178.) #premierleague
179.) #soccerskills
180.) #ronaldo
181.) #team
182.) #soccerislife
183.) #soccertime
184.) #soccerfan
185.) #soccergame
186.) #soccerplayer
187.) #soccercleats
188.) #soccertraining
189.) #soccerlove
190.) #soccerworld
191.) #soccerjersey
192.) #soccerball
193.) #soccerlife
194.) #soccerplayer
195.) #soccerislife
196.) #soccerteam
197.) #training
198.) #exercise
199.) #Instasoccer
200.) #futbolmatch
201.) #ifitmoveskickit
202.) #everyplayeveryday
How to use soccer captions
Using these captions is quite simple. Just copy your favorite caption from this list and paste it into the message area of your social media post. Go ahead and add a hashtag or two. Hashtags will link you to a greater audience of like-minded soccer lovers.
These captions and sayings can also be used beyond social media posts. Make posters, banners, year-end books, t-shirts, and team gifts using these captions as inspiration. Be creative! Make individualized certificate handouts or photos with captions for each player on the team to recognize accomplishments or year-end awards. The possibilities are limitless!
By Heather Olson
Heather is a sportswriter based in Minneapolis.
Overtime
You're on the Soccer Captions, Puns, Sayings, Hashtags page.
You might like:
Soccer field dimensions and diagram
Soccer positions: roles and responsibilities