Page 2 of Football Sayings and Slogans
Football Slogans  | 1 | 2 |
Also, check out football quotes and Sports Team Slogans
Football sayings and slogans can be used for a variety of reasons. Check out the collection below.
Hard-Hitting Sayings and Slogans on Football
Rudy was off-sides!
Rise as One!
Why not us?
Prepare for Combat
First downs to touchdowns – That's how we roll!
Champions play as one
We didn't come here to play, we came here to win
Sweat more in preparation, bleed less in battle
Your sweat is your fat crying.  Keep it up.

Because we can!
Play hard, smart and together
Play every play, like it is the last play, you will every play
Whatever it takes
Do it NOW, Do it RIGHT
Check out Funny Football Puns and Captions.
The Best Football Sayings and Slogans Video
Why not us?
It's hard to beat a team that never gives up
Practice without improvement is meaningless
Attitude is everything – life is 10% of what you make it and 90% of how you take it
Attack the Future
Refuse to Lose
Check out Who has won the most Super Bowl.
Home Team Pride Slogans for Football
Practice is the effort that makes winning possible
Win the Day
Be the hammer or the nail
Turn a setback into a comeback
Our BEAST MODE is turned "ON" always
Work Hard Stay Humble
Check out 37 Most Inspirational Sports Quotes
2 teams, 1 night, 0 regrets
Be strong, Be fierce
BRING YOUR SKATES: Fight until Hell freezes over and then fight on the ice
Fourth Quarter
You can walk away or work harder
Excellence in all we do
Winning traditions begin on the practice field
Finish Strong
SUDDEN IMPACT
The football MVP was once a beginner
One Way:  FORWARD
The task ahead of you is never as great as the strength within you
The first step in winning is believing you can
The body achieves what the mind believes
Check out Football Instagram Captions.
Sports Slogans Video
The Best Football Sayings
You're not finished when you lose; you're finished when you quit
Catch the Spirit
ALL IN!
Remember that guy who gave up? Yeah, nobody else does either.
Keep Calm and Tackle Hard
We can and we will
Trample the weak, hurdle the dead
Never Quit
Pursue Perfection
Ain't a horse that can't be rode, ain't a cowboy who can't be throwed.
Good enough…Isn't
Change the Game
The road to greatness is uphill
Rise and Roar
We can, we will, we are one team
Champions are made not born
This is our House
It's all about TEAM – nothing else matters
Where there is unity there is victory
More Football Slogans
Success starts with believing in yourself.
Mediocrity is as close to the bottom as it is to the top.
Excuses stop here.
If we cannot find a way, we will make one.
Great accomplishments require great sacrifices.
Success is not a random event.
We hit the books hard and our opponents harder
Pucker up and kiss your dreams of a victory goodbye
Win your battle
Play Fast
Success doesn't come to you, you go to it
Quitters throw in the towel.  Winners use it to wipe off the sweat.
Champions play as one
We walk through this door together
One of us is not as strong as all of us
WE ARE ONE
Sweat makes the grass grow
Never give up, never back down, never lose the faith
THERE'S ONLY ONE (team nickname or school)
Come Together, Work Together, Play Together, Win Together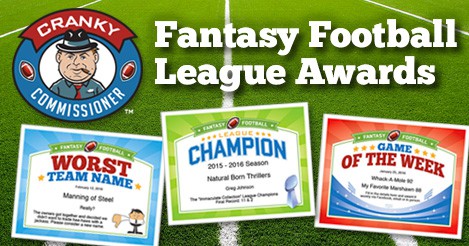 Use this collection for posters, signs, t-shirts, sweatshirts, jerseys and more.  Inspire and motivate a team or get your fan nation to rally around the cause.  This is football!  The right words can be a powerful tool for a coach or a group of fans.
If you have any suggestions, please let us know.  We'd love to hear from you.  Please use the Contact page to submit.  Thanks.
Football Slogans  | 1 | 2 |
Also, check out football quotes
Football nicknames

Practice plans

Offseason football workouts

Award certificate templates