Welcome to Sports Feel Good Stories' NFL Fantasy Football Headquarters. This page features a menu of links to various fantasy football featured articles, resources, and lists to help you with your team, your league, and the season.
Fantasy Football Team Names – Best Lists By Year
Really, the place to start is with this year's list. But, if you want to take a deeper dive, check out lists from previous years.
Also, we have selections specifically for females and a list that works in a corporate setting (if Mom would approve it, so would your boss).
Fantasy Football Team Names
173 Best Fantasy Football Names for 2022
Fantasy Football Team Names Hall of Fame: 2022 Inductees
Fantasy Football Team Names Hall of Fame: 2021 Class
Fantasy Names Sorted By NFL Team
Game of Thrones Fantasy Football Team Names
Mom Approved Fantasy Football Team Names
2020 List
2020 Fantasy Football Team Names List
Team Names for Star Players By Position
You are on our Fantasy Football Headquarters page.
If you want to name your team after one of your star players, we've made it easy for you. Along with team name ideas, we've loaded each page with background material on each player and some fun facts.
Quarterback
Running Back
Wide Receiver
Tight End
Defense
Hall of Fame Fantasy Football Team Names Video
Team Names By NFL Team
We're putting the teams in their stated divisions. Look for more to come.
NFC East
NFC North
NFC South
NFC West
AFC East
AFC North
AFC South
AFC West
2016 – 2017
2015 Fantasy Football Names
227 Funny Fantasy Football Team Names
2014 Fantasy Football List
Featured Articles
Check back throughout the preseason and during the season for new articles and resources.
Fantasy Football: A Women's Perspective
How NFL Fantasy Football Works
Have More Fun in Your Fantasy League
11 Winning Tips To Shock Your League
10 Reasons to Love Fantasy Football
Editable Fantasy Football Award Certificates
Recognize the champ and the chumps in your league with this designer, editable award certificates. As commissioner, you can award these weekly by email or text, or save them for the award banquet at the end of the season.
There are 35 certificate templates in all. Talk some smack, recognize brilliance and have some fun!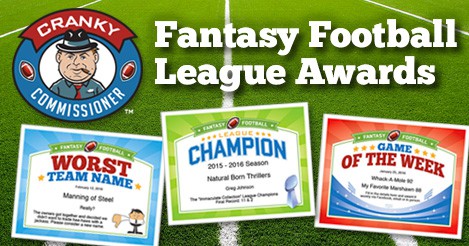 You're on NFL Fantasy Football Headquarters page.
External Fantasy Football Links
How one league handled its biggest loser
LeagueSafe: Resource for collecting and protecting dues
Baseball
Other Sports Fantasy Links
Basketball: Fantasy Naming Ideas